AJU Flag Handing over Ceremony

As the sun sets over Maputo so it does over the 34th African Championships. As is customary at the end of every championship, the official African Judo Union flag gets handed to the next country to host the Championships.
At the flag handing over ceremony the President of the Mozambique Judo Federation, Dr. Igor Vaz handed the flag back to the Vice President of the African Judo Union, Mr. Habib Sissoko who in turn presented the flag to Mr. Oumar Mahamat Yaya representative of the Minister of Youth and Sports of Chad, who will be hosting the 35th edition of the Senior Championships over the period 14-22 April 2014.
Chad, officially the Republic of Chad, is a landlocked country in Central Africa. It is bordered by Libya to the north, Sudan to the east, the Central African Republic to the south, Cameroon and Nigeria to the southwest, and Niger to the west.
Capital : N'Djamena
Government : Presidential system
Currency : Central African CFA franc
Official language : French Language, Arabic Language
Population : 11.53 million (2011) World Bank
Points of interest : Tibesti Mountains, Zakouma National Park,
AJU Flag Handing over Ceremony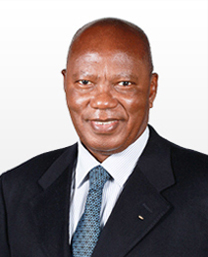 Int.General Lassana Palenfo
African Judo Union President
34th Senior African Championships